Song to the Ocean Light Sculptures

Local artists participated in a workshop recently to create silhouette art which envisions their connection to the ocean and translates their artistic style the side of a light sculpture. The light sculptures, created by Mimi Dennett, will be displayed at Song to the Ocean, a live music and visual art experience for the Hervey Bay Whale Festival on 29 and 30 July 2021.
Workshops were facilitated by visual artist Tiffany Beckwith-Skinner who has had over 20 years of experience in community-engaged art through the State Library of Queensland, Woodford Folk Festival Regional touring projects. Tiffany was commissioned to design and test silhouette art prototypes for Song to the Ocean and lead participatory making and installation sessions in the lead up to the performance. Tiffany designed and created the small scale wearable light sculptures worn by the performers of Song to the Ocean, which were premiered at Bleach* Festival and Festival 2018 of Gold Coast Commonwealth Games arts and culture program.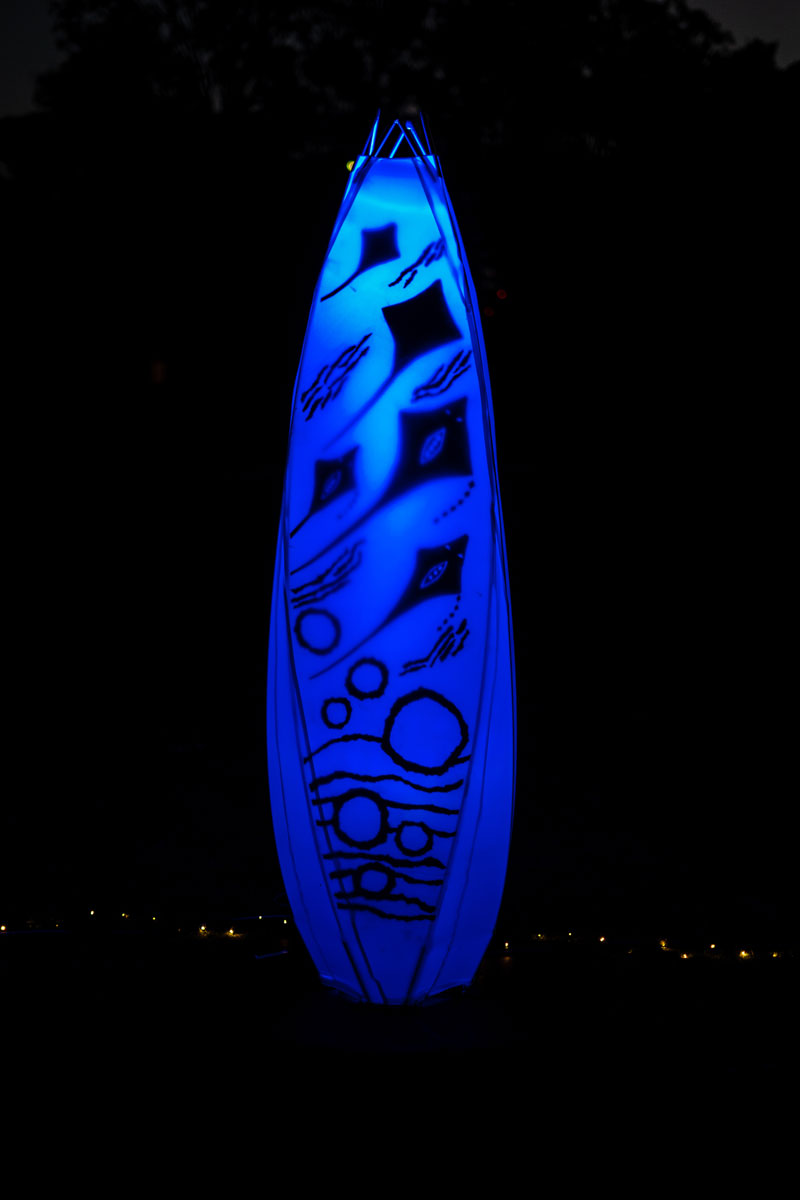 Rosemary Anderson
Stingrays
Rosemary has recently moved from Tannum Sands to Toogoom and is a multi-medium artist, specialising in sculpting with stone, metal and wood. She likes to use recycled materials as much as possible in her sculptures. The main inspiration for her artworks is the beach.

"'Stingrays' is inspired by the walk along the shore and viewing the holes where the stingrays rest. I love the way the live and move, and that they are not the showiest creatures of the ocean."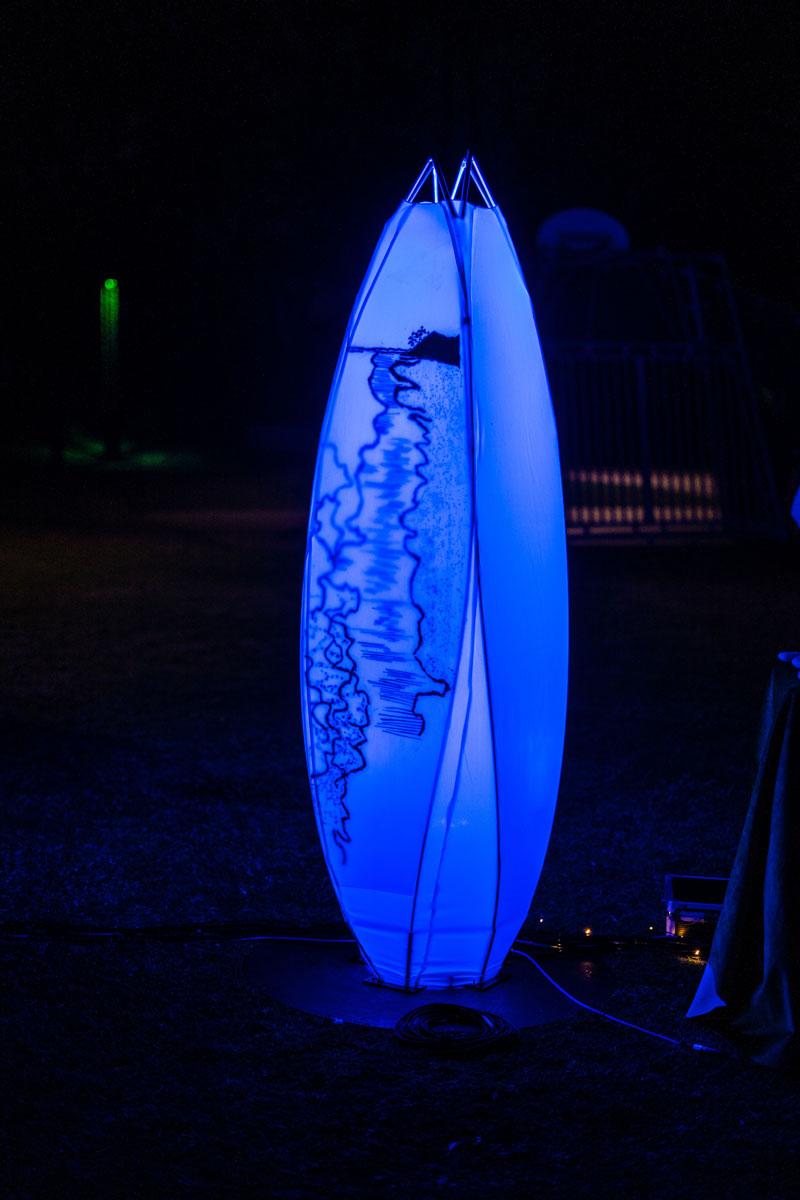 Tiffany Beckwith-Skinner
Here
Tiffany is a multidisciplinary artist who lives and works in whatever medium is available.Tiffany learns, listens and shares stories through conversation and mark making, whether this be makeup or costume in film, theatre, found object, jewellery, sculpture, printmaking or special effects.

"'Here' is a response to Song to the Ocean, how we had waited such a long time to come here and we hoped, talked, designed, asked for permission, prepared then waited, the last six months for that first morning to wake up on Butchulla county and watch the sun rise shining on the bay."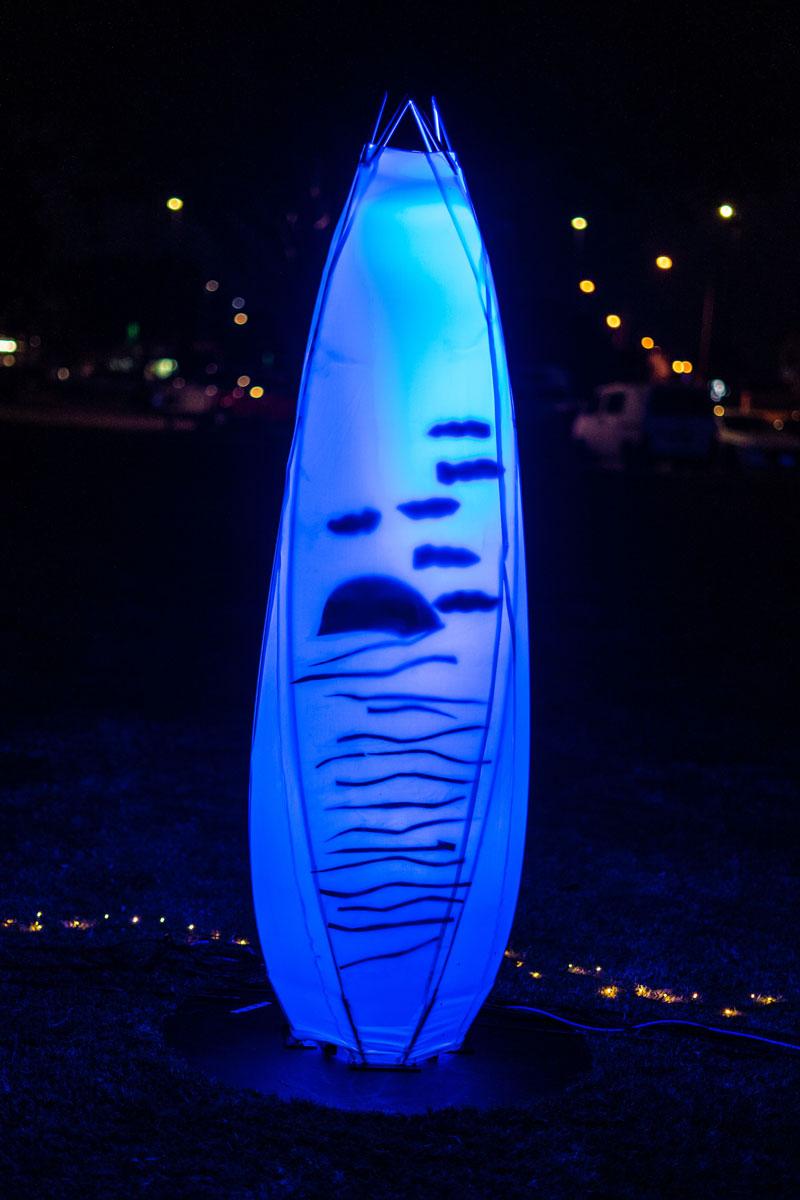 Sarah Biddle
Light
Sarah considers herself an eccentric artist who loves old school cartoons and memorabilia. She enjoys drawing in her sketchbook and aspires to be a cartoonist or animator.

"'Light' celebrates sunrises and sunsets which are amazing to watch on the ocean's horizon, and are enjoyed by a lot of people."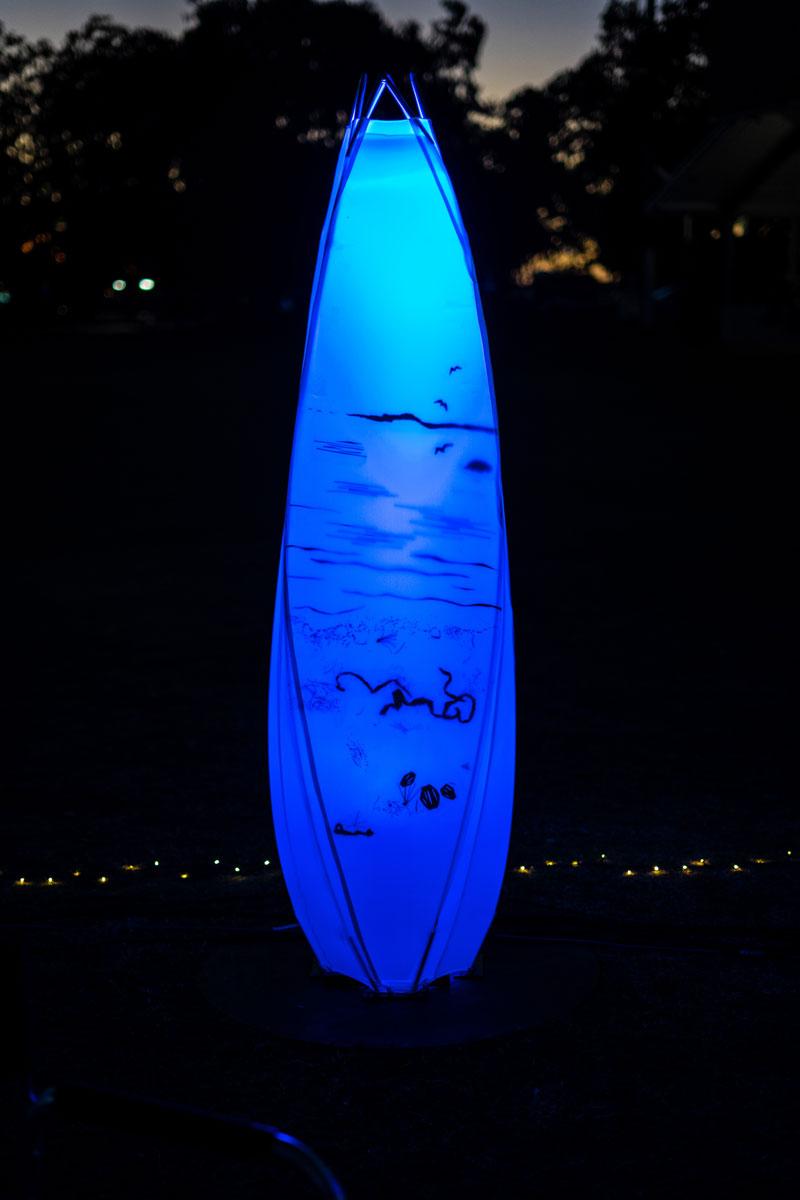 Lesley Dubroy
From The Shore
Lesley is a maker and has a natural interest in visual arts. Lesley believes art is about creating connections. Connections from the viewers into the artists inner world, and the greater connection between the artist and community. Art is a way of bringing the community together for pleasure and curiosity, for question and inquiry and discussing issues.

Lesley loves the idea of theatre when the audience to arrives in a state and by the end of the performance, we have changed their state. They walk away with a change of mood for the better.

"'From the Shore' features the use of macro and the micro, which is large and small objects. We go down to the beach and look at the view, but we forget to look at what is around our feet. 'From the Shore' is about connecting ourselves back to the land and the trees. Trees are my favourite beings. I placed Pandanus pods near the bottom of my artwork to symbolise the gifts from our trees and nature."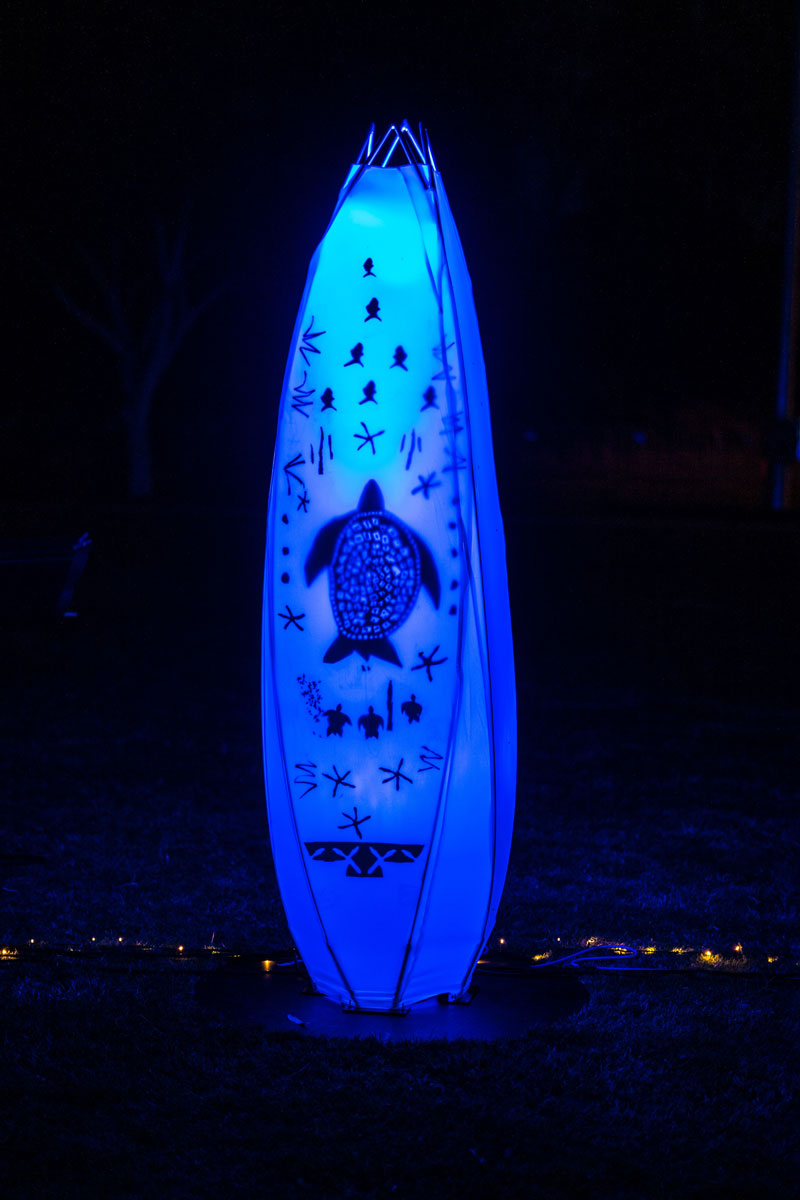 Karen Hagger-Peen
Turtle Waves
Karen is English, Canadian and Australian and has lived in Australia since 1987. Karen moved to Hervey Bay 3 years ago and is loving it. Currently, Karen is studying a BA in Fine Art and is a member of the Hervey Bay Art Society.

Materials Karen likes to work with include porcelain, clay, acrylic and mixed media.

"My artwork features a turtle surrounded by marine themed silhouettes. 'Turtle Waves' tells the story of the turtle's long, expansive journey throughout the ocean."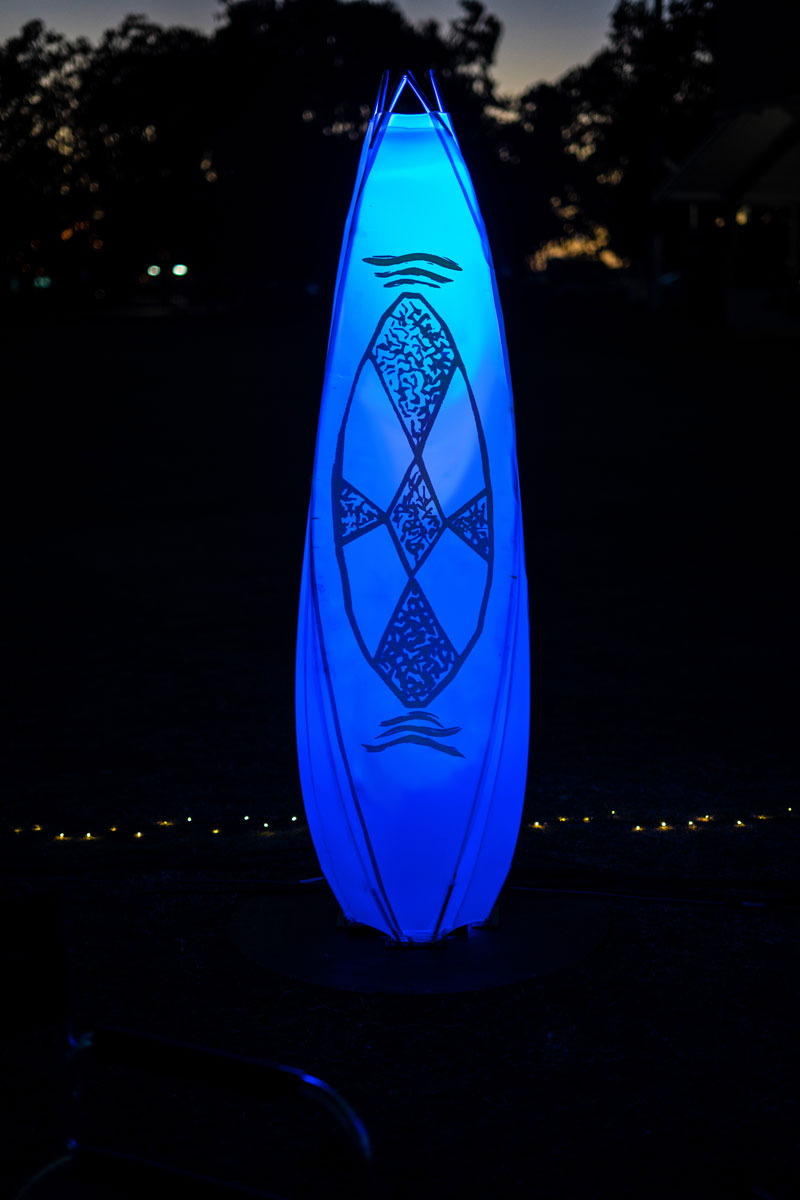 Karen Hall
Butchulla Shield
Karen came into art as a healing journey and focuses on her cultural art of telling stories about Country and the animals and plants that live on Country, aswell as Butchulla stories and sharing them with schools. Karen also produces murals which can be viewed by the community.

"I have made these two 'Butchulla Sheilds' to represent the protective role of Our Butchulla Men and Our 3 Laws.

These will be at the entrance and exit to the orchestra circle, illuminated on the standing lanterns/light sculptures."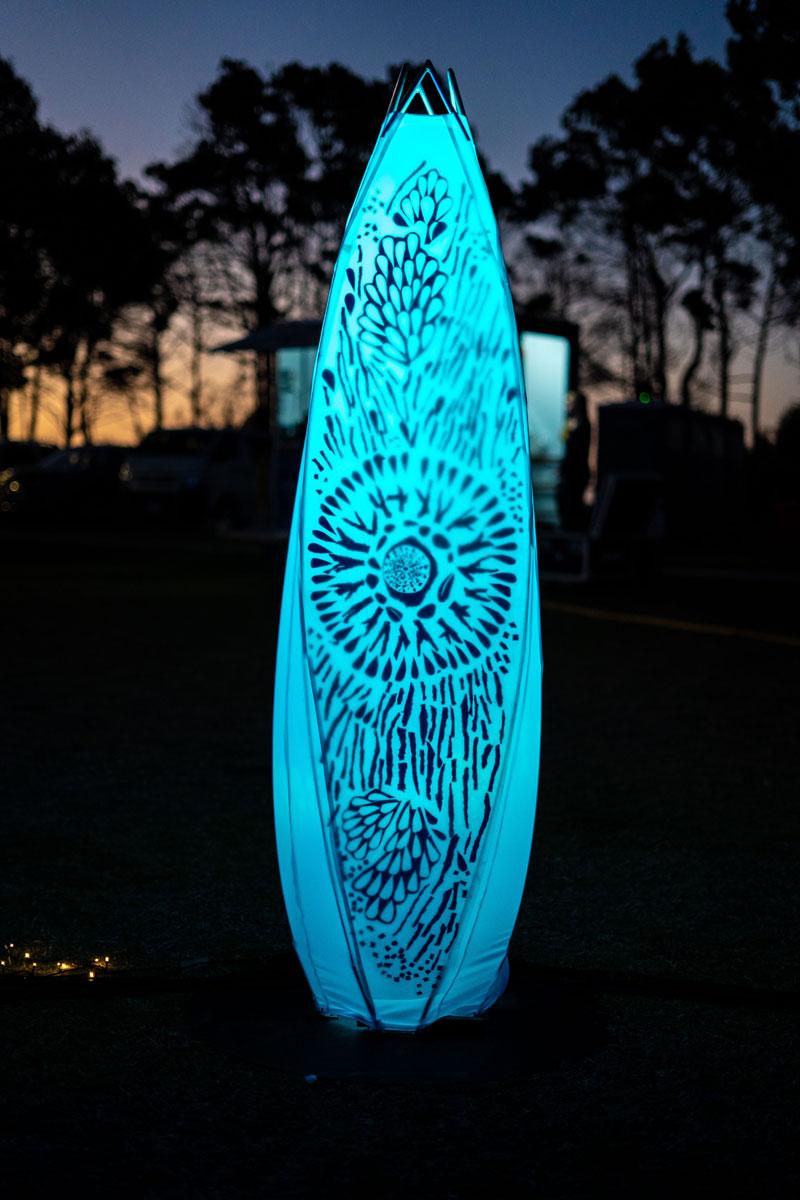 Nora Hanasy
Mandala Reflections
Nora is a mixed media artist, but her passion is assemblage art and collage. Nora is also an art teacher and educator at Riverside Christian College. Nora enjoys collecting discarded items and found objects to repurpose them into something beautiful.

"Mandala Reflections features silhouettes of organic objects found on the beach. This is a pastime I greatly enjoy with my family, creating mandalas on the beach and leaving them to be discovered by passers-by."
Elizabeth Kay Maguire
Loving the Ocean, Becoming a Mermaid Connecting with The Dugongs
Elizabeth has been a practising artist since she was 13, developing into a multi-medium artist.

Elizabeth's passions are many, from the ethereal to the material.

This artwork is about loving the ocean, becoming a mermaid and connecting with the dugongs.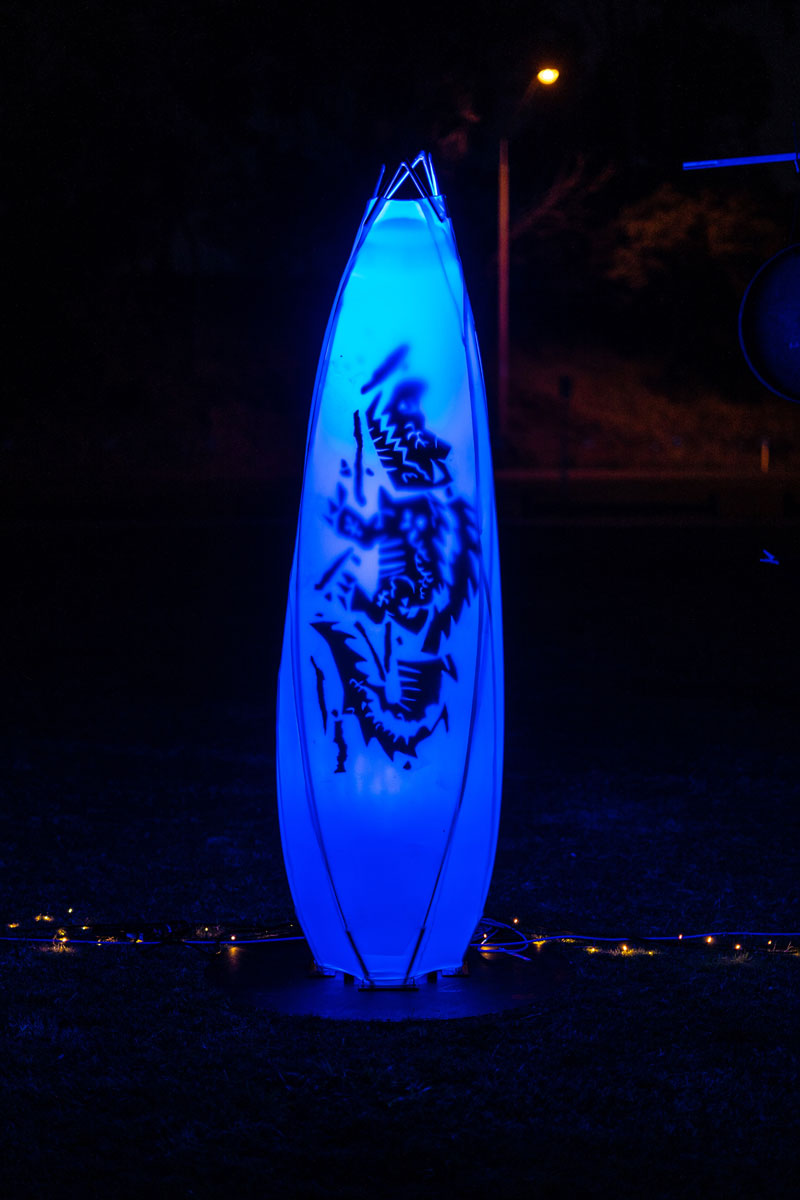 Jess Morgan
Scales
Jess loves cartoons and anime, and aspires to be an animator and cartoonist.

"Scales is a crocodile design. I chose the crocodile because it's a beautiful Australian animal and I love the way they live."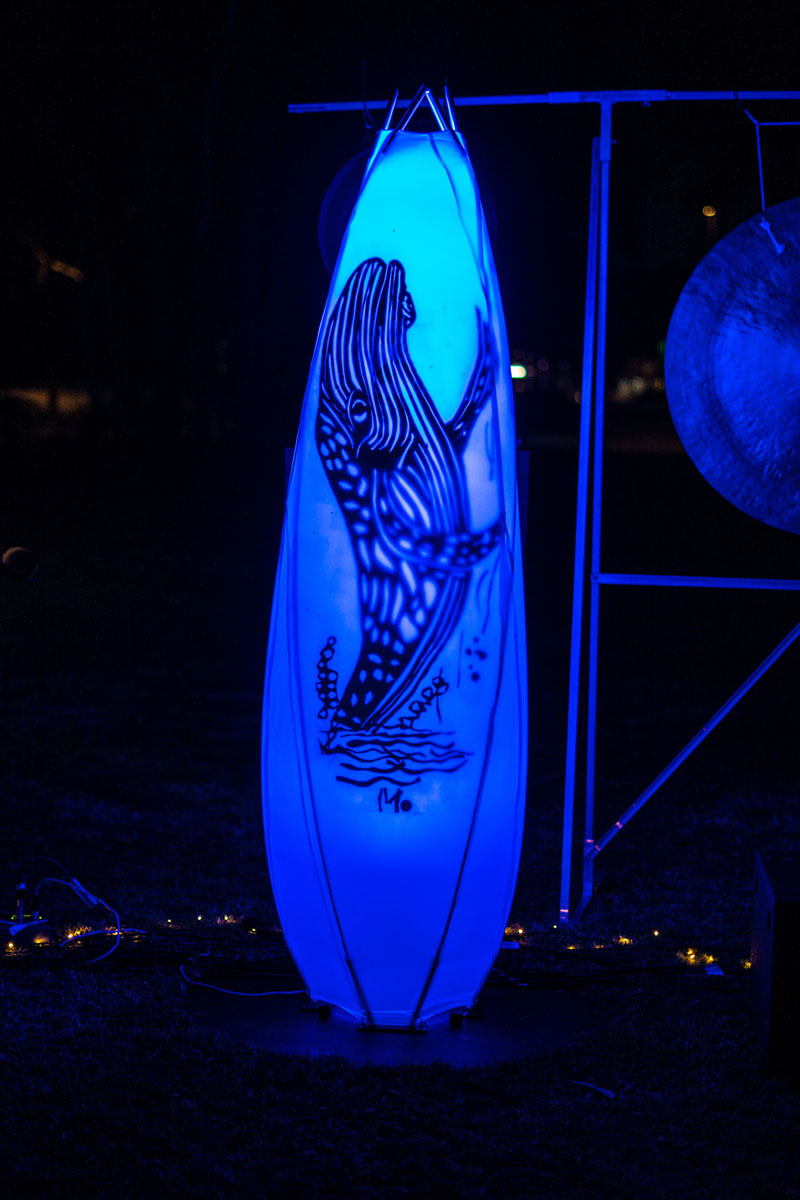 Mo Riggs
Hervey The Whale
Mo has been painting most of their life and first exhibited in 1987 internationally. Mo's main artistic focus and passion is the marine world. Mo has been diving and sailing since 15 years of age and feels connected to the marine environment and life within it. Mo is passionate about the preservation of the ocean and has worked with many environmental organisations and ocean clean-ups. Mo makes earth pigments and turns them into traditional oil paints and watercolours, and holds workshops on the process.

"'Hervey The Whale' celebrates the whale season, which attracts so many people to this region during this time of year (July) until November."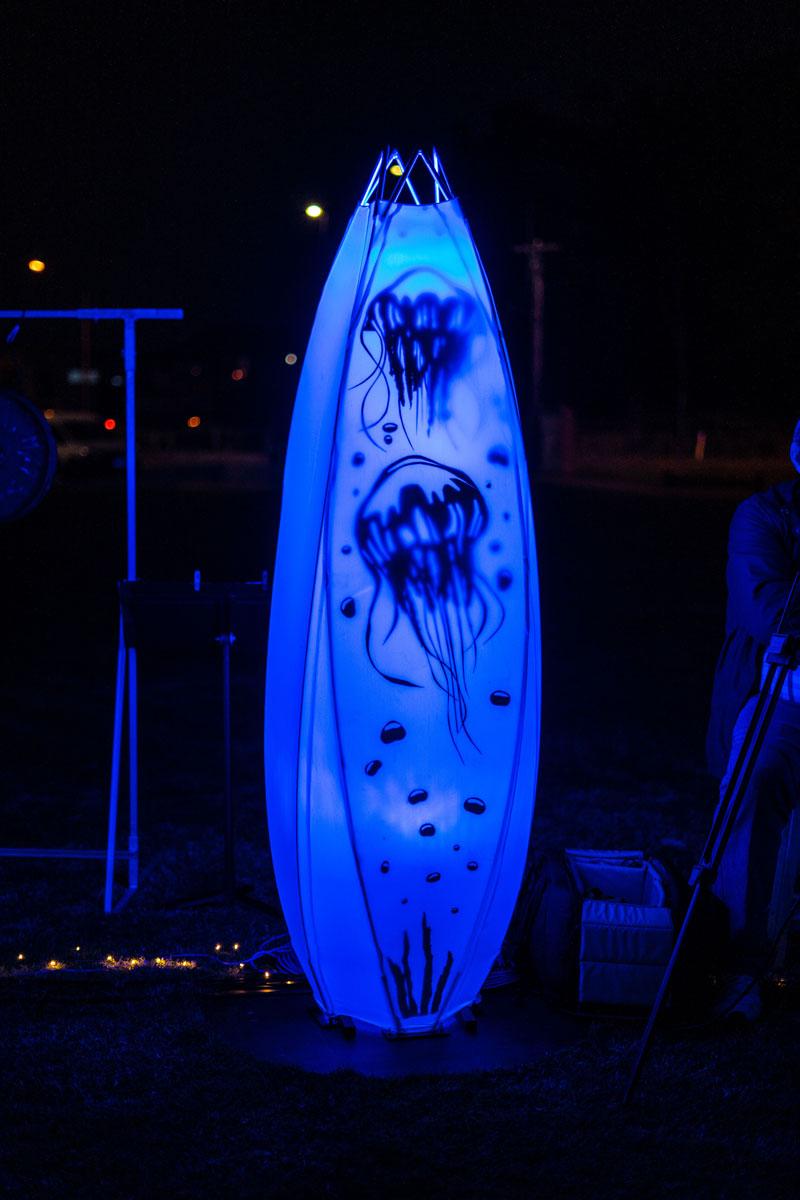 Lois Shoebridge
Just Floating
Drawing is Lois' main interest and she is currently working with block printing on textiles, ink pen drawings and watercolour.

Lois' pets are her current muses.

"'Just Floating' responds the movements of jellyfish floating through the water. When I am floating in the water or even laying on the sand at the beach, my worries melt off me and I am in a total relaxed state for the rest of the day, even after I get home. I entered the artwork without knowing what I wanted to do, so my mind just floated throughout the process and that's how I came about with this composition."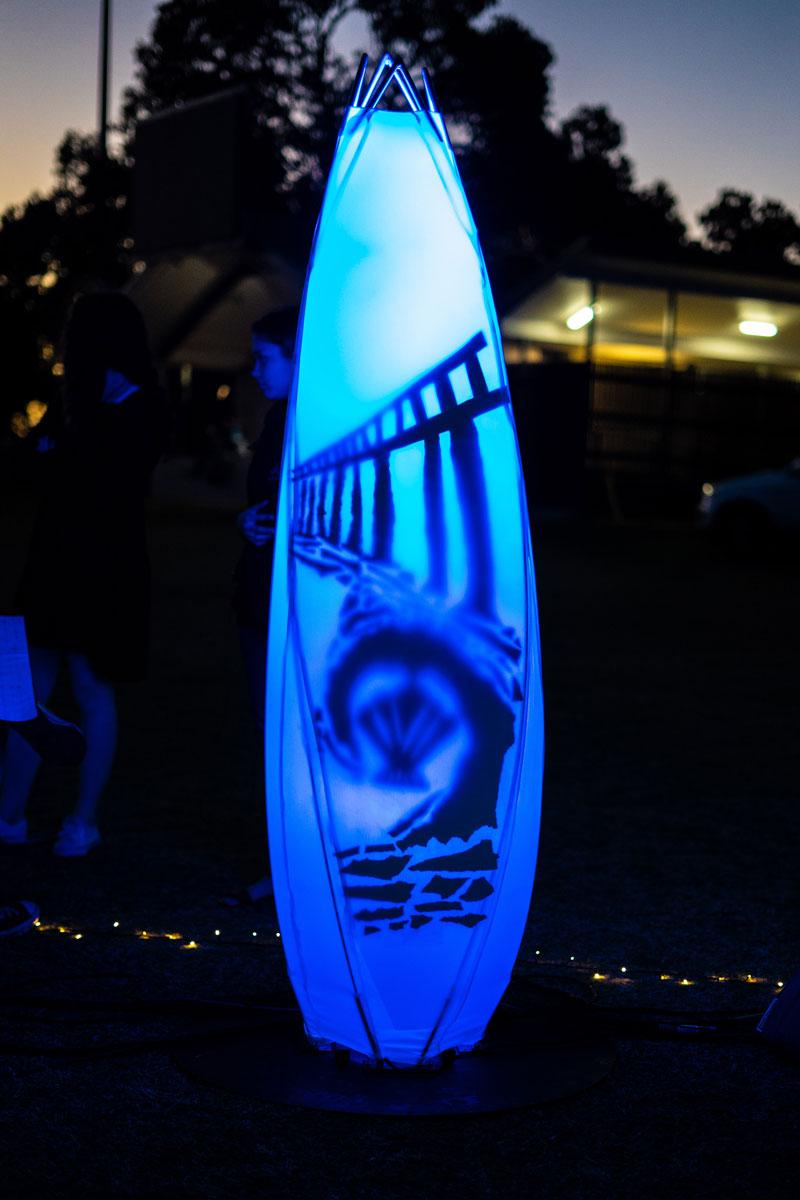 Kitty Treloar
Pier Walk
Kitty does Venturer Scouts and received an Australian Scout Medallion last year. Kitty likes rope climbing and is working on setting up an up-climbing area.

Art styles that inspire Kitty are anime and comics, and Kitty is especially moved by the details drawn in anime animation, such as a character's movements and expressions. Kitty loves the comic book format as a form of storytelling.

"My and my mum love to walk together to Urangan Pier every morning for our exercise. Every time we go to the Pier, there's so much to see around on the beach and on the pier. It's always changing, but at the same time it stays the same."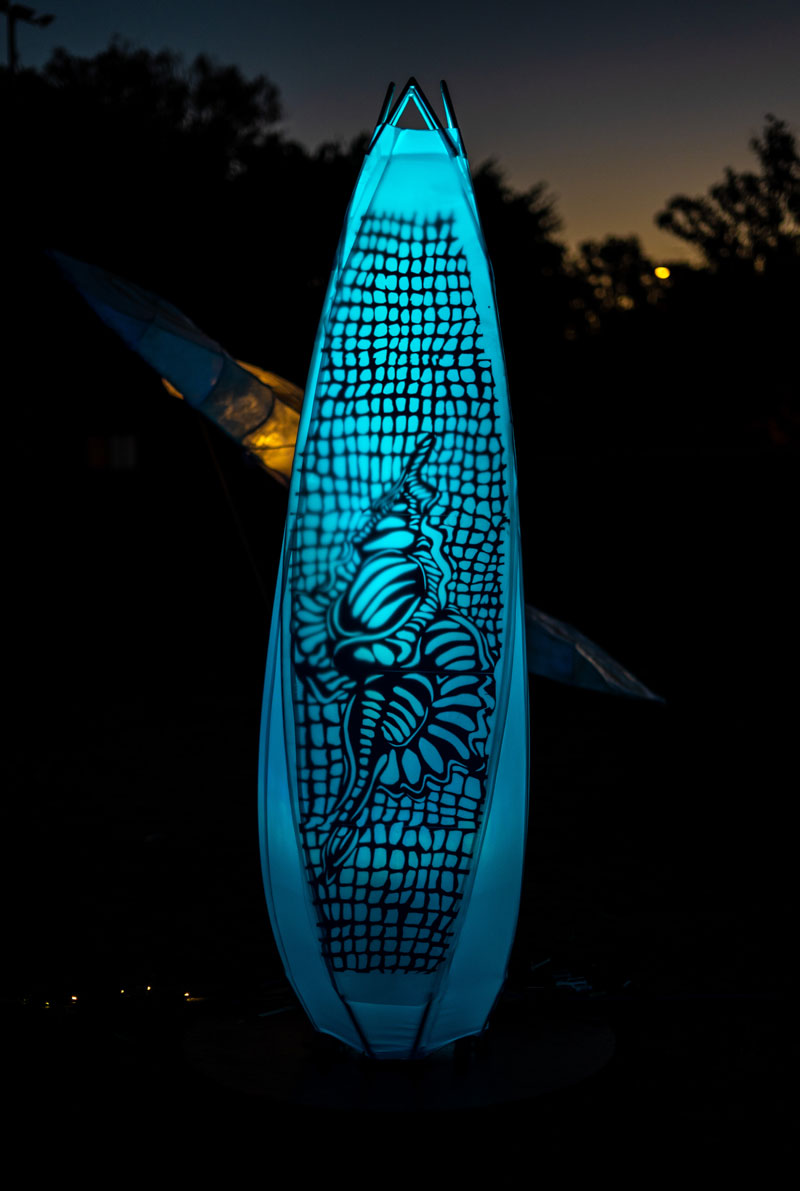 Jo Williams
Kookaburra Shell
Jo is a multi-media conceptual artist based in Howard. Jo is also an art teacher who runs workshops at her residence. Jo can be found mostly hanging out in her art cave in Howard.

Jo is inspired by concepts, lyrics of songs, the environment, and the Japanese concepts of Kintsugi (emphasising imperfections) & Ma (negative space).

"My light sculpture features the Kookaburra Shell, which is indigenous to the Central Coast of Queensland. It is a beautiful and rare beauty that is still hard to find."
Light Sculpture photographs by Cody Fox. Workshop photos courtesy of the Song to the Ocean team.
This project was supported by the Regional Arts Development Fund.
The Regional Arts Development Fund is a partnership between the Queensland Government and Fraser Coast Regional Council.